It's constantly gripping to launch a new website, but it's also easy to forget some essential must-does. Using this Website Launch Checklist would help to avoid common pitfalls and prevent potential maintenance and promotion issues, which can ruin all the hard work you did building your website.

We'll walk you through every step you need to take, and with this set of basic rules and tips, you would be able to rest assured that your website is ready for a successful launch.
Are you ready to get an inside scoop on essential tips for launching your website? Let's go!
☑️ 1. Hosting and domain name (address of your future site)
The most important rule when launching a website is to choose the right services provider for hosting and registering your website address. The chances of your site to rock will highly depend on it.
Give heed to these details:
The amount of disk space provided for the site. There should be more space than it seems necessary now;
Some sites may require specific technical features and tools. It's essential to have the hosting provider which supports them;
Reviews and recommendations about the company providing services to you;
Availability and accessibility of technical support. Sadly, that is more important than it may appear;
A domain name is the address of your site (e.g., example.com) and must be unoccupied by another company and available for registration;
The ratio of price and quality of services provided.
✋ Caution!
Try not to use free web hosting, as you wouldn't be able to present any requirements to the company. Such services are suitable only for tiny sites, and the company will likely force their ads on your site. Oops!
☑️ 2. Semantic core
The semantic core is a set of keywords, including their morphological forms and phrases, by which people will search for your site. The semantic core is necessary for your website to appear within search results on Google and other search engines. Being within search range would allow you to gain clicks on these keywords and get website visitors.
It is crucial to consider that the semantic core should contain only phrases that reflect the activity relevant to your site. For example, for an online auction, keywords like 'order a computer repair' are irrelevant.
☑️ 3. Structure
A site's structure is how all of the pages on a site are cataloged, how they are linked together, and how are displayed in the navigation.
✏️ Hint: The site structure should be logical for users and search engines.
This stage of work is vital. A logical and well-thought-out structure will allow you to monetize it as quickly as possible when launching the site and use the full potential of promotion.
Let's walk through the main features of the correct website structure:
It is logical for users, as convenient navigation directly boosts its position in search engines;
Works correctly for search engines: the more logically the site is built, the faster it will get into search engines;
Covers the semantic core: thoughtful distribution of keywords and pages helps refer to all the necessary user queries.
☑️ 4. Content plan
A content plan is a schedule of publications and articles for your site. It should be planned for a certain time to avoid publishing interruptions.
If the semantic core and site structure is ready, you need to start preparing the content part of your site based on the content plan. It will make the site more beneficial to users immediately after launch, and help get the first visitors.
🗒️ Remember: With a proper content strategy, your website would attract relevant audiences without spending an extra buck. Sounds decisive, isn't it?
Content marketing is not your strong suit? Learn How Live Website Feedback Tools Can Help Digital Marketers in Daily Work.
☑️ 5. Legal niceties
Each country has its unique regulations for websites you need to look for, and there are quite a lot of them. Check out the most common ones:
For legal transparency, register your hosting and a domain name for a legal entity on whose behalf the activity is carried out;
Describe the rules for working with content on the site, and mention that you are not responsible for the content posted by site users;
Do not post other people's content without the permission of the copyright holder;
Think over and display on the site the work with the storage and processing of personal user data.
All set? Now you're ready for the most time-consuming but crucial stage of preparing your website for its prime time or website relaunch!
☑️ 6. Test site and edits
Before launching your site, create a test site – it will be a full copy of your site, usually, such a site is located on a closed server and is not available to users or search engines. Access to this site is possible with a username and password.
Use it to prepare and verify the content or change the code before uploading the primary version to your current website. Then you won't have to worry about possible failures, and all the bugs would be seen only by responsible specialists.
Important: Try not to make significant changes to the public site before the weekend – in case something goes wrong, the specialists who manage your site may not be available.
Making final edits before going live can become laborious and time-consuming if you do not think through the interaction system between different team members like QA testers, programmers, designers, and content specialists.
You need to have a website feedback tool that would enable your team members to leave broken links and bug reports, website reviews, annotations, and web design feedback. What tool to use?
Webvizio – Your Best Bet
Webvizio is a unique platform where all members of your team can leave visual feedback, set tasks and control changes to your live site, even if it's not public yet and restricted by a password.
All you have to do is enter your web address, and Webvizio will create a live copy of your (or any other) website. The program allows you to set tasks and comment on any elements of your site, enabling your colleagues to know what exact element you are referring to and what exactly needs to be changed or corrected!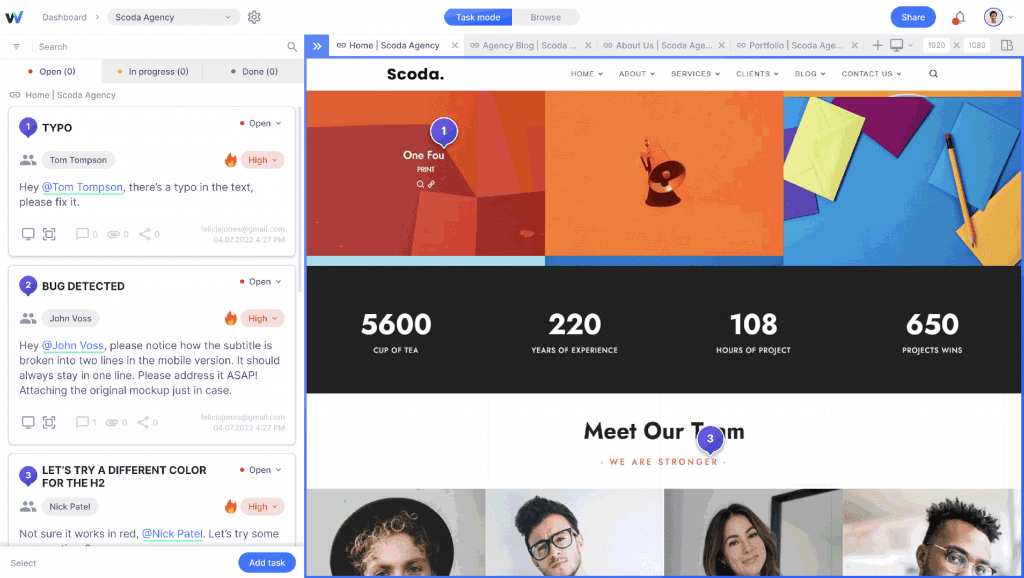 You can assign each task to a corresponding team member, set urgency, and attach additional files, links or documents. The assignee can change the status of tasks to mark when they are in progress or completed. Sounds too complicated? Learn these 5 Ways to Track Tasks in the Web Development Process.
🗒️ Don't forget: A colossal challenge before launch is to identify web bugs on different types of devices and screen resolutions. Webvizio allows you to preview and set tasks on selected device types and resolutions. Now your team will definitely not miss a bug!
And you know what? Webvizio has a free version.
Try for free now!